... Let my mind become the ocean,
Let me see perfection in all there is...

(Annie's prayer in "Namah Shivaya")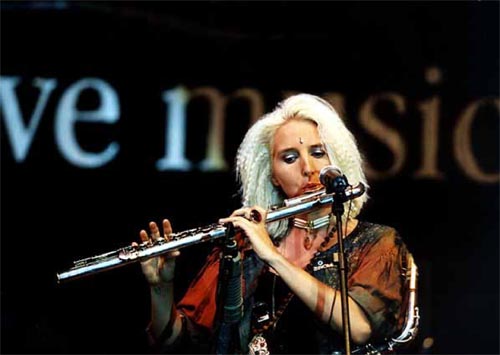 On February 5th 2006 our beloved friend Annie, the spirit, the heart and the voice of Yulara, left her body for always.
She went straight into the light with Babaji showing her the way.
It's a time of mourning about our loss and yet a time of celebrating her wonderful being.
We have been blessed by her smile, her music, her spirit and her love.
She'll always be in our hearts and souls.
God is love.
---
I am the roots
that drink the water
I am the stem
that gives me hold
I am the branches
that reach for heaven
I am the cosmic tree
I am
(Annie's prayer on "cosmic tree")
---
Yulara - Du bist die Sonne
Meine geliebte Annie-Ananya ist ins Licht gegangen.
Nun scheint sie von dort Ihr Licht auf uns herab.
Ich danke für Ihr fröhliches strahlendes Lachen.
Sie hat mein Leben kreativ bereichert.
Ich danke Annie Ananya, für den gemeinsamen Liebespfad.
Sie folgte dem Weg Ihres Herzens und öffnete viele Herzen.
Die Trauerfeier findet am 14. Februar 2006 auf dem Friedhof Zehlendorf, Onkel-Tom-Str. 30, um 12:00h statt.
Wer zur Feier kommen möchte, ist herzlich eingeladen.
Sturmius